Blurb
Belle is just too sassy for her own good. It's gotten her into hot water one time too many and she knows she's treading a thin line with her Alpha. So what does she do when she's forced to pick up a sexy-as-sin Scotsman and return him to the Pack? Heck, as soon as the Alpha's mate goes near him, she growls at her! She's lucky to make it out of there in one piece, and she's sure it's the hot Highlander who saved her.
What was supposed to be a pick him up, drop him off, and make her getaway kinda day, turns into a scorching hot encounter that takes her breath away, at the same time as her sanity. Mr. Sex-on-Legs Scotsman has her heart racing every time he glances her way, her Wolf acting like a love-sick pup, his beast calling to hers as only a soul-mate can.
With rogue Wolves in the area, willing to take what they want, and what they want is Belle, can the lovers find each other and seal their bond before it's too late?
Read New York Times Bestselling Author, A K Michaels addition to the Sassy Ever After world which is also book seven in her Highland Wolf Clan series, packed full of hot Shifters, sassy females, intrigue, passion, and thrills.
Buy Link
Review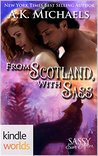 Sassy Ever After: From Scotland, With Sass (Kindle Worlds Novella)
by
A K Michaels
My rating:
4 of 5 stars
*** I voluntarily reviewed this book, I gained no monetary incentives nor was I specifically requested to review the book, these are my honest ramblings and I hope you enjoy reading them - kat***
So this book is linked to the
Highland Wolf Clan Series
which I loved. We Have Sandy, the Beta from the Scottish Pack sent over to help with the Rogue problem the US pack are having problems with. Belle from the Black paw pack is sent to pick Sandy up - she is a bit of a willful gal (our sassy lass) and also a bit reticint at listening to her feelings (it seemed a bit odd to me that she did not recognise her feelings were about meeting her mate) as this seems to be something that is discussed in a pack and she knew about the 'senting ceremony her pack held) but other than that, its another fast paced shifter book from Ms Michaels. I enjoyed the brief inclusion of Cam from the other series too.
View all my reviews
Author Bio
New York Times Bestselling Author, A K Michaels lives in Scotland, spending her time with family, pets and writing, writing, and more writing. She writes Paranormal Romance With A Bite. She has smoking hot Dragons, sexy Highland Shifters, and smoking Vampires aplenty with a host of other paranormal beings, her stories filled with hot Alpha Males, suspense, action and thrills to keep you turning the pages. Ava took up writing later in life and is always thinking of the next story to indulge herself in. She loves reading, chocolate, Rose wine and Luna who is a German Shepherd and mad as a hatter, and Jinx, a black Lab that is more than a little nuts. She has twitter, website and a Facebook page where she loves chatting to folks. She has her Sassy Lassie's VIP Clan where you can sign up and get a Bonus Freebie in your welcome email and keep up to date with her news. http://akmichaels.com/sassy-lassies-vip-clan/
Twitter ~ Facebook